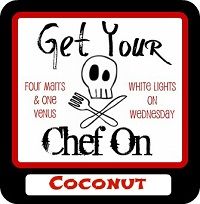 I signed up a couple of weeks ago to participate in a cooking challenge hosted by Julie from White Lights on Wednesday and Jen from Four Marrs & One Venus
using the secret ingredient of coconut. I love the flavor of coconut and also that of chocolate, I combined the two flavors for the recipe that I'm entering.
(Note-Forgot to add sweetened condensed milk to photo of ingredients)
2 cups chocolate wafer cookie crumbs
Middle layer ingredients:
3 3/4 cups sweetened coconut flakes
1 can (14 oz.) sweetened condensed milk
1 cup almond slices, roasted (Optional)
Chocolate Topping ingredients:
1 cup Dark Chocolate Chips (I used Ghirardelli chocolate chips)
Lastly add about 3/4 cup of Hershey's Premier White Chips
1. Heat oven to 350 degrees. Grease a 13x9x2 inch baking pan.
2. Combine the cookie crumbs, sugar and melted butter in bowl. Then press into your prepared pan.
3. Stir together the condensed milk and coconut, also almonds if you added them together. Spoon onto crust and spread evenly. Bake in oven for 20-25 minutes or until coconut just begins to brown. Cool.
4, Place the Dark chocolate chips and whipping cream in microwave safe bowl. Heat for 1 minute, then stir. Heat an additional 15 seconds at a time, stirring after each heating until the chocolate chips are melted and smooth when stirred. Spread over cooled bars. Sprinkle the white chips over top. Cover and refrigerate for several hours or until chilled. Cut into servings and enjoy.
Be sure to check out the other coconut recipes that are entered in the challenge by going over to Julie and Jen's blogs. I can't wait to see what others entered into the challenge.
From the Heart,
Jana